The 4th International Workshop on
Protocols and Applications with Multi-Homing Support
(PAMS 2014)
In conjunction with the
28th IEEE International Conference on Advanced Information Networking and Applications (AINA)
May 16, 2014, Victoria/Canada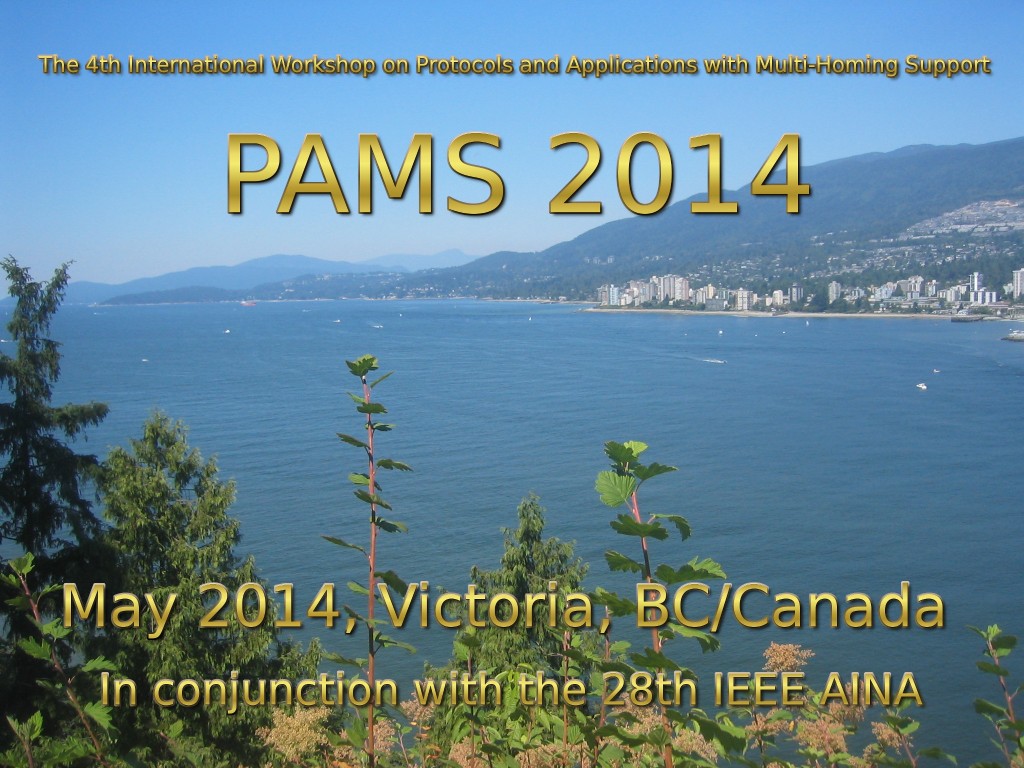 Welcome
Network transport protocols such as TCP/IP have been designed under the assumption that an endpoint is connected to a single network and is addressed by only one Network Layer address. But today, with the popularity of resilience-critical applications, such as e-commerce, e-health and emergency services, there is more and more interest in having multi-homed endpoints, where systems are connected to multiple networks and are therewith able to support the necessary resilience. The management of multi-homing creates challenges for applications and underlying protocols as well. For the best application performance, multiple approaches, situated on different protocol layers, should work cooperatively.
Multi-homed Transport Layer protocols such as SCTP are available for quite some time. However, in the last period, and with the recent progress by the IETF related with Multi-Path TCP (MPTCP), which adds multi-homing functionalities to the standard TCP protocol, multi-homed Transport Layer protocols have become a hot research topic. In addition to it, multiple large research projects are working on approaches on the Session Layer (e.g. HIP) and Network Layer (e.g. LISP, ILNP) and are dealing with similar issues. Furthermore, multi-homing is an interesting topic for interconnection networks (e.g. Infiniband). Here, it has to be mentioned that Cross-Layer Optimization in this field may lead to further improvements.
The intent of our workshop is to bring people from research and industry together in order to provide a discussion forum for state-of-the-art topics related with multi-homing on Data Link, Network, Transport, Session and Application Layers. The workshop will include full-paper sessions as well as a poster session (with short presentations) to introduce preliminary ideas as well as work in progress.
Call for Papers
Topics
The main topics to be addressed include (but are not limited to):
Network Resilience by Multi-Homing
Network Architectures for Multi-Homed Systems
Performance Evaluation of Multi-Homed Systems
Deployment of Multi-Homed Protocols in Existing Networks with Middleboxes
Design and Implementation of Multi-Homed Systems
Testbeds for Multi-Homed Systems
Load Sharing and Load Balancing for Multi-Homed Systems
Mobility for Multi-Homed Systems
Protocols with Multi-Homing Support
Congestion and Flow Control of Multi-Homed Systems
Quality of Service for Multi-Homed Systems
Multi-Homing for Interconnection Networks
Security of Multi-Homed Systems
Application Deployment and Support for Legacy Applications
Cross-Layer Optimization for Multi-Homed Systems
Multi-Homing in the Context of the Future Internet
Proceedings
Workshops proceedings will be published by IEEE CS Conference Publishing Service and will be included in the Digital Library.
Download of the Call for Papers
The Call for Papers as PDF file can be downloaded here.
Session Schedule
In case of questions or problems, just write an e-mail to pams2014@easychair.org.
Session W-PAMS-S1: «General Challenges and Mechanisms» – Room 5, 09:00-10:30
Session chair: Hakim Adhari
Welcome address by Thomas Dreibholz (general chair)
«Impact of Path Selection and Scheduling Policies on MPTCP Performance»
by Behnaz Arzani, Alexander Gurney, Shuotian Cheng, Roch Guerin and Boon Thau Loo
«Out-of-Order Transmission for In-Order Arrival Scheduling Policy for Multipath TCP»
by Fan Yang, Qi Wang and Paul Amer
«Measuring the QoS Characteristics of Operational 3G Mobile Broadband Networks»
by Simone Ferlin-Oliveira, Thomas Dreibholz, Özgü Alay and Amund Kvalbein
Coffee break, 10:30-11:00
Session W-PAMS-S2: «Use-Case-Specific Mechanisms» – Room 5, 11:00-12:30
Session chair: Simone Ferlin-Oliveira
«Retransmission Timeout Estimation for Low-Delay Applications using Multipath RTP»
by Ralf Globisch, Yago Sanchez, Thomas Schierl, Keith Ferguson and Thomas Wiegand
«LEDBAT-MP – On the Application of "Lower-than-Best-Effort" for Concurrent Multipath Transfer»
by Hakim Adhari, Sebastian Werner, Thomas Dreibholz and Erwin Paul Rathgeb
«Using Concurrent Multipath Transfer to Improve the SCTP Startup Behavior for PSTN Signaling Traffic»
by Karl-Johan Grinnemo, Anna Brunström and Jun Cheng
Closing address by Thomas Dreibholz (general chair)
Lunch, 12:30-13:30
Important Dates
Paper Submission Deadline: November 1, 2013 (extended)
Author Notification: December 28, 2013
Author Registration: February 21, 2014
Camera-Ready Paper Submission: February 21, 2014
Submission of Presenter Information: March 3, 2014
Workshop: Friday, May 16 from 09:00 to 12:30
Committees
General Chairs
Thomas Dreibholz, Simula Research Laboratory, Norway
Hakim Adhari, University of Duisburg-Essen, Germany
Publicity Chairs
Glenford Mapp, Middlesex University, United Kingdom
Xing Zhou, Hainan University, China
Program Committee
Hakim Adhari, University of Duisburg-Essen, Germany
Nicola Altan, ista International, Germany
Paul Amer, University of Delaware, U.S.A.
İlknur Aydın, Farmingdale State College, U.S.A.
Martin Becke, University of Duisburg-Essen, Germany
Anna Brunström, Karlstad University, Sweden
Łukasz Budzisz, Technische Universität Berlin, Germany
Ahmed Elmokashfi, Simula Research Laboratory, Norway
Kristian Evensen, Simula Research Laboratory, Norway
Simone Ferlin, Simula Research Laboratory, Norway
Ernst Gunnar Gran, Simula Research Laboratory, Norway
Michio Honda, Keio University, Japan
Seok Joo Koh, Kyungpook National University, South Korea
Amund Kvalbein, Simula Research Laboratory, Norway
Glenford Mapp, Middlesex University, United Kingdom
Michael Menth, University of Tübingen, Germany
Preethi Natarajan, Cisco, U.S.A.
Brad Penoff, Google, U.S.A.
Esbold Unurkhaan, Mongolian University of Science and Technology, Mongolia
Thomas Volkert, Ilmenau University of Technology, Germany
Alan Wagner, University of British Columbia, Canada
Michael Welzl, University of Oslo, Norway
Xing Zhou, Hainan University, China