The 3rd International Workshop on
Protocols and Applications with Multi-Homing Support
(PAMS 2013)
In conjunction with the
27th IEEE International Conference on Advanced Information Networking and Applications (AINA)
March 25-28, 2013, Barcelona/Spain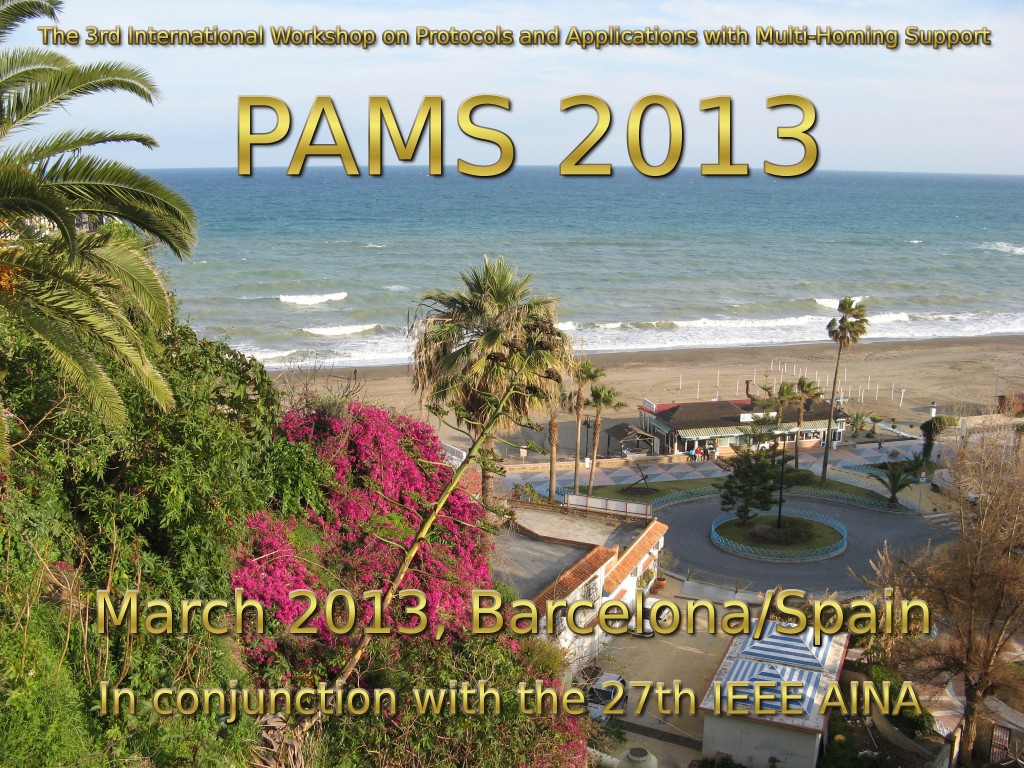 Welcome
Network transport protocols such as TCP/IP have been designed under the assumption that an endpoint is connected to a single network and is addressed by only one Network Layer address. But today, with the popularity of resilience-critical applications, such as e-commerce, e-health and emergency services, there is more and more interest in having multi-homed endpoints, where systems are connected to multiple networks and are therewith able to support the necessary resilience. The management of multi-homing creates challenges for applications and underlying protocols as well. For the best application performance, multiple approaches, situated on different protocol layers, should work cooperatively.
Multi-homed Transport Layer protocols such as SCTP are available for quite some time. However, in the last period, and with the recent progress by the IETF related with Multi-Path TCP (MPTCP), which adds multi-homing functionalities to the standard TCP protocol, multi-homed Transport Layer protocols have become a hot research topic. In addition to it, multiple large research projects are working on approaches on the Session Layer (e.g. HIP) and Network Layer (e.g. LISP, ILNP) and are dealing with similar issues. Furthermore, multi-homing is an interesting topic for interconnection networks (e.g. Infiniband). Here, it has to be mentioned that Cross-Layer Optimization in this field may lead to further improvements.
The intent of our workshop is to bring people from research and industry together in order to provide a discussion forum for state-of-the-art topics related with multi-homing on Data Link, Network, Transport, Session and Application Layers. The workshop will include full-paper sessions as well as a poster session (with short presentations) to introduce preliminary ideas as well as work in progress.
Call for Papers
Topics
The main topics to be addressed include (but are not limited to):
Network Resilience by Multi-Homing
Network Architectures for Multi-Homed Systems
Performance Evaluation of Multi-Homed Systems
Deployment of Multi-Homed Protocols in Existing Networks with Middleboxes
Design and Implementation of Multi-Homed Systems
Testbeds for Multi-Homed Systems
Load Sharing and Load Balancing for Multi-Homed Systems
Mobility for Multi-Homed Systems
Protocols with Multi-Homing Support
Congestion and Flow Control of Multi-Homed Systems
Quality of Service for Multi-Homed Systems
Multi-Homing for Interconnection Networks
Security of Multi-Homed Systems
Application Deployment and Support for Legacy Applications
Cross-Layer Optimization for Multi-Homed Systems
Multi-Homing in the Context of the Future Internet
Proceedings
Workshops proceedings will be published by IEEE CS Conference Publishing Service and will be included in the Digital Library.
Download of the Call for Papers
The Call for Papers as PDF file can be downloaded here.
Paper Submission
Please closely follow the manuscript preparation guidelines before submitting your paper!
Step 1: Paper Submission For Review
Please adhere to the following guidelines when preparing your manuscript for review.
Authors are invited to submit full or short papers for presentation at the conference. Full papers (up to 6 pages) should present novel perspectives within the general scope of the conference. Short papers are an opportunity to present preliminary or interim results and are limited to 4 camera-ready pages in length. Short papers will be presented in a poster format and are published in the proceedings. All papers must include title, complete contact information for all authors, abstract, and keywords on the cover page.Please ensure that your paper is formatted in accordance with IEEE Computer Society's guidelines. Visit http://www.computer.org/portal/web/cscps/formatting for detailed paper formatting instructions.
Submit your paper using the EasyChair online submission system on or before the paper submission deadline. The link for the submission to the PAMS 2013 is http://www.easychair.org/conferences/?conf=pams2013. Please note that we do not use the EDAS submission system of the AINA main conference!
Each paper will undergo independent review by at least three reviewers. You will receive an e-mail notification of the outcome of this review.
Step 2: Author Registration and Final Camera-Ready Paper Submission
Please perform the following steps to prepare and submit your camera-ready manuscript.
Important Dates
Paper Submission Deadline: October 15, 2012 (extended)
Author Notification: November 30, 2012 (updated)
Camera-Ready Paper Submission: December 28, 2012
Author Registration: December 28, 2012
Submission of Presenter Information: February 7, 2013
Workshop: March 27, 2013 (as part of the AINA conference from March 25 to March 28)
Committees
General Chairs
Thomas Dreibholz, Simula Research Laboratory, Norway
Hakim Adhari, University of Duisburg-Essen, Germany
Program Chairs
Martin Becke, University of Duisburg-Essen, Germany
Thomas Dreibholz, Simula Research Laboratory, Norway
Publicity Chairs
Glenford Mapp, Middlesex University, United Kingdom
Xing Zhou, Hainan University, China
Program Committee
Hakim Adhari, University of Duisburg-Essen, Germany
Nicola Altan, ista International, Germany
Paul Amer, University of Delaware, U.S.A.
Holger Bleul, DB Systel, Germany
Anna Brunström, Karlstad University, Sweden
Ahmed Elmokashfi, Simula Research Laboratory, Norway
Kristian Evensen, Simula Research Laboratory, Norway
Ernst Gunnar Gran, Simula Research Laboratory, Norway
Seok Joo Koh, Kyungpook National University, South Korea
Amund Kvalbein, Simula Research Laboratory, Norway
Glenford Mapp, Middlesex University, United Kingdom
Preethi Natarajan, Cisco, U.S.A.
Brad Penoff, Google, U.S.A.
Andreas Timm-Giel, TU Hamburg-Harburg, Germany
Esbold Unurkhaan, Mongolian University of Science and Technology, Mongolia
Alan Wagner, University of British Columbia, Canada
Michael Welzl, University of Oslo, Norway
Xing Zhou, Hainan University, China